The century-old NHL finally opens jerseys sponsorship
By
nhluser
• Dec 2nd, 2021 • Category:
Hockey Jerseys Canada
NHL known as "blue blood aristocracy", also put the advertising logo on its most cherished cultural carrier – Jersey.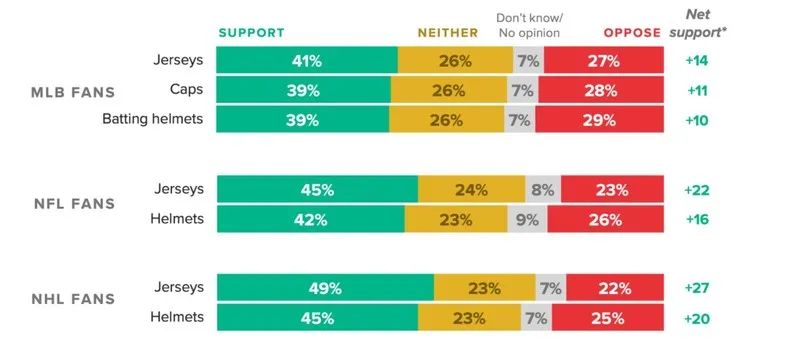 In August this year, 32 team owners unanimously voted to approve the proposal of shirt sponsorship. Starting from the 2022-23 season, each team will be allowed to have a shirt sponsor for the first time. According to the regulations, each team can add a piece of 3 to the shirt × For the 3.5-inch (1 inch = 2.54 cm) advertising patch, the sponsor needs to sign a contract for no less than three years. Although NHL has previously developed eight new sponsorship assets including helmet patch, in view of the cultural and historical significance of jerseys in NHL, which has been established for more than 100 years, opening jerseys sponsorship is still the most symbolic change in the sponsorship system of the league in recent years.
After the epidemic, NHL chose to open a series of business actions such as shirt sponsorship, which can provide a lot of enlightenment to sports marketing.
Jersey sponsorship, toothpaste can no longer squeeze back
Just six years ago, NHL president Gary Bateman also said that he respected the tradition of ice hockey and leagues and was not in a hurry to introduce Jersey sponsorship. Although Jersey sponsorship was already an important source of income for professional sports in Europe at that time, the major leagues in North America remained unchanged.
The shirt sponsorship of European football is more developed and can "eat three fish": for example, Manchester United has equipment sponsor Adidas, shirt sponsor TeamViewer and sleeve sponsor Kohler.
NHL's shirt sponsorship began in 2010, when the Chicago Black Hawks and Calgary Flames put sponsorship signs on their training shirts. Although some media said at that time that this was a step towards the sponsorship of match shirts, after all, the importance of training shirts and match shirts could not be equated. Moreover, in 2015, Bateman also said that NHL would not be the first of the four major leagues in North America to "surrender" to Jersey advertising.
The first crack in North American Jersey sponsorship appeared in the NBA. In the 2017-18 season, NBA became the first of the four major sports leagues to allow Jersey advertising. During the three-year trial period, the Jersey advertising sponsorship program has brought considerable revenue to it. According to IEG estimates, in 2017-18 season, a total of 27 teams in the League sold their jerseys advertising space. According to FOS, the sports commercial media, NBA Jersey advertising brings about $150 million to the League every year, while head teams such as Golden State Warriors rely on only $250 million × A 2.5-inch patch can easily account for $20 million a year. As soon as this example is opened, the Jersey sponsorship is like a piece of toothpaste squeezed out, which can no longer be returned to the tube.
There are many examples of shirt sponsorship in the ice hockey industry. For example, the KHL continental Hockey League, the United States east coast Hockey League (echl), the United States Hockey League AHL and even the women's Hockey League nwhl (now renamed super Hockey League) have Jersey sponsorship.
NBA's success stories virtually increased Bateman's pressure, but what really changed NHL's mind was the epidemic. The epidemic has caused great blood loss in sports events. Major leagues began to find ways to stop bleeding. Under the heavy pressure, the baseball league MLB announced the opening of Jersey sponsorship last June. NHL's loss is not small. Bateman said that the league's total loss in 2020-2021 season is more than $1 billion, and even frankly speaking, the loss of League cancellation is smaller than this.
In order to compensate the existing sponsorship partners and retain the existing income, NHL opened eight new sponsorship assets during the epidemic. One of the most concerned is helmet patch sponsorship, which is also the first time NHL has opened team equipment sponsorship (except CCM and other equipment manufacturers). Bateman said that helmet and other sponsorship brought a total of $100 million to the League last season, while according to IEG data, NHL's total revenue last season was only $676 million.
helmet sponsorship is more compensatory. For example, the Nashville marauders put the brand logo on the helmet in order to compensate for the losses caused to their venue naming partner Bridgestone America.
NHL, which tasted the sweetness of helmet sponsorship, almost inevitably slipped to Jersey sponsorship. Just a few weeks after NHL gave the green light for shirt sponsorship, the Washington capitalants signed NHL's first shirt sponsorship agreement, which reached a home shirt launch cooperation with gambling giant Caesar entertainment. According to the reports of the athletic and other media, the amount of this sponsorship is about US $5 million per year. A team with a strong mass base such as Toronto Maple Leaf is expected to earn $10-15 million a year through shirt sponsorship.
The sponsorship of jerseys and helmets can make the league and players win-win, because such income will be included in hockey related revenue (HRR), the league and players will be divided into 50-50, and the amount of NHL salary caps is also closely related to HRR.